Service Contact
Email:
sales@fiberer.com
Wechat:
josieHe501
chxm888
Tel:
+86-755-8619-2858
:
+86-755-8621-1558


SLD Light Source - 850nm/1310nm/1550nm Singlemode Multimode Specification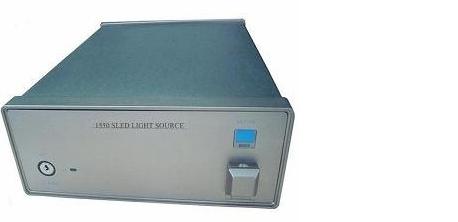 Applications
Optical fiber passive component spectrum testing
Optical fiber grating, DWDM, filter testing
Optical fiber measurement equipments
Features
Broadband light sourceRemark
Specifications
Parameters

1310 LED

1550 LED

1300 SLED

1480 SLED

1550 SLED

1620 SLED

1650 SLED

Central wavelength (nm)

1310±20

1550±20
1300±20
1480±20
1550±20
1620±20

1650±20

-3dB spectrum width (nm)

≥35

≥35

≥35

≥40

≥40

≥40

≥40

Output power (uW)

≥20

≥10

≥1000

≥500

≥1000

≥1000

≥500

Spectrum density stability1

≤±0.05dB/15 min

Short term stability1

≤±0.01dB/15 min

Long term stability2

≤±0.03dB/8 hour

Operating mode

CW,internal modulate, external modulate

Fiber pigtail

Single mode SMF-28

Output connector

FC/PC, FC/UPC or FC/APC

Operating temperature (℃)

0℃~40℃

Storage temperature (℃)

-20℃~70℃

Power supply

AC110/220V±10%,50Hz,20W

Maximal Power Consumption

10W

Dimensions (L×W×H mm)

90×70×19, 320×220×90
Remark:Stability is tested at room temperature 25±2℃ after pre-heating 30 minutes.
1.

Test condition: fixed temperature, CW.
2. Test condition: temperature variation ±2℃, CW.
Typical Spectrum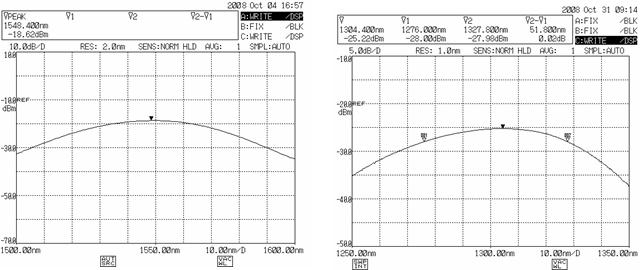 1550nm spectrum 1300nm spectrum
Ordering Information
OS

Type

Type Of Laser Diode

Operating Wavelength

Power

Connector

M=Module
D=Desk-top

D=DFB-LD
L=LED
F=FP
P=Pump
S=SLED
M-Multi-mode

131=1310nm
155=1550nm
1315=1310 & 1550nm
etc

00=0dBm 10=10dBm 20=20dBm

FC/UPC FC/APC

** If you are agent / OEM / middle trade, please copy the specification into word document from our website ,then send it to your clients.
---