Power Meter
Uses InGaAs the PIN photorectifier to take the light detector, microcomputer control, wide measuring range, high precision, function, small volume , low power loss , high reliability, it is good examination tool of the fiber optic communications for project construction and the maintenance . It also can widely applies in the telecommunication,fiber optic communications project domains and so on Guang Dian, army, railroad, petrochemical, electric power, coal, as well as the local area network, WAN, the light active, the passive component's survey, the universities, colleges and institutes and the scientific research institute and so on is various.

●automatic zero alignment, the automatic measuring range transforms,
●the measuring range maintains, data average processing,
●microcomputer control, direct measurement 850nm, 980nm, 1300nm,1310nm, 1480nm 1550nm wavelength luminous power,
●large screen LCD ,show the luminous power (W, dBm), relative measurement (dB),
●ultra owes the measuring range prompt, the battery undervoltage demonstrated ,
●the power source closes down automatically,
●high resolution , linear 0.001nW, logarithm 0.001dB/0.01dBm,
●the power loss is low, battery power supply,long-term usage 8 hours,
●may external connection direct-current power supply.
Power Meter KL310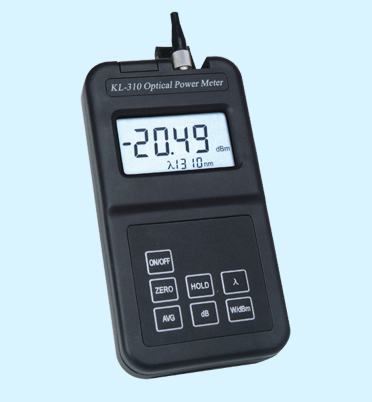 Specification
Wavelength 850nm, 1300nm, 1310nm, 1550nm

Measurerange -70dBm~+3dBm

Uncertaindegree ±5%(-10dBm, 20±3℃

Differentiation 0.1~1%(linearity), 0.01~0.001dB(log)

Environment -20~+50℃ 45~90%RH

Power supply battery:8.4Vfolding charge batter DC:12V, 150mA

Dimension 85mm(W) x32mm (D) x160mm (H)

Weight 0.35Kg
Power Meter KL330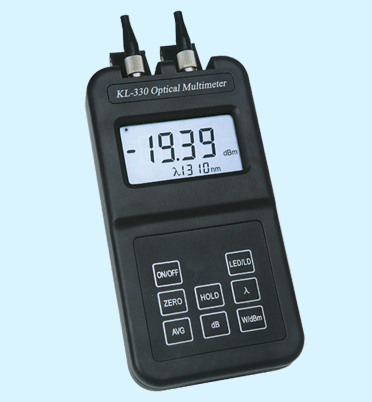 Specification
Wavelength 850nm, 1300nm, 1310nm, 1550nm

Measurerange -70dBm~+3dBm

Uncertaindegree ±5%(-10dBm, 20±3℃

Differentiation 0.1~1%(linearity), 0.01~0.001dB(log)

Center wavelength 1310±10nm

Output power ≥-20dBm

Stability ±0.02dB/15min

Environment -20~+50℃ 45~90%RH

Power supply battery:8.4Vfolding charge batter DC:12V, 150mA

Dimension 85mm(W) x32mm (D) x160mm (H)

Weight 0.35Kg
KL-330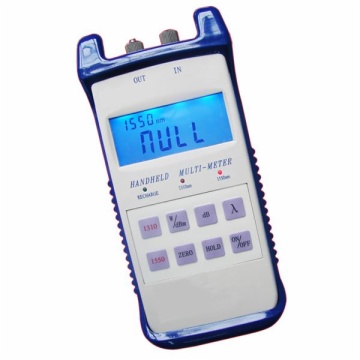 Specification
Type

KL-330

Power

Meter

Detector Type

InGaAs

Measurement Range

-70~+3 dBm

Uncertainty

±5% (-10 dBm,20±3℃)

Calibrated wavelengths

850、980、1310、1550 nm

Rosolution

0.01 dBm

Optical Connector

FC or Universal 2.5mm adaptor

Laser Source

Emitter Type

FP-LD

Wavelengths

1310/1550

Output Power

-7 dBm

Spectral Width

≤10 nm

Output Stability

±0.05dB/15min; ±0.1dB/8hours

Optica Connector

FC or Universal 2.5mm adaptor

Power Supply

Rechargeable Battery + Battery Charger

Battery Operating Time

≥6 hours(Both Power Meter and Laser Source are working)

≥28hours(Only Power Meter is working)

Auto-off time

10 mins

Operating Temperature

-10~+60 ℃

Storage Temperature

-25~+70 ℃

Dimension

150mm(W)×76 mm(D)×26 mm(H)

Weight

250 g
Download product datasheet