Parameter
OLT Fiberer-F410T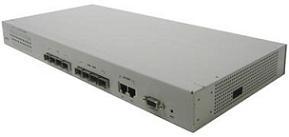 F410T is a new generation of small type GEPON Equipment. Which is a telecom grade FTTH broadband access equpment who provide for Telecom Operator. Comparing with common EPON products. It can supply higher bandwidth speed and connect more end-users, final to reduce operating investment cost effectively.
F410T is operators last mile of ideal FTTH solution with high integration, flexible application, high stableness, easy management, flexible to extend and buildup network, as well as providing QoS function.
F410T comply with newest EPON system standard base on IEEE802.3ah. The fiber link up and down speed can reach to 1.25Gb/s. Each PON OLT system can distribute into 32 remote ONUs to build up the fiber passive network by a max 32 way optical splitter with the advantage of big capacity of transmission, high security, flexibility of buildup network, economization the resource of fiber and to reduce related devices quantity.
F410T is a high performance device, through FTTH/FTTB/FTTC fiber optical network to provide transmission service for such like family users, enterprise users etc where max bandwidth can reach to 1Gbps. Meanwhile, by natural advantage of PON system, Operator can economic save cost on construction and using fiber cable, it can easily access to high speed of Broadband data, IP telephone, and IPTV.
This system combine with OLT(Optical Line Terminal), ONU(Optical Network Unit) and Splitter, OLT have 4 uplink port which connect IP network, meanwhile it have 4 EPON downlink port, each port can support 1: 32 splitter through single fiber cable. So one OLT device can support 128 ONU end-user within transmission distance of 20 kilometers.
Key features
1Box syle structure, 1U height, simple&flexible install and maintenance
2Complies with IEEE802.3ah standard
3High splitter ratio, high fiber using
4Allow Exchange ability
5ACL-access control list
6DBA-dynamic bandwidth arranagement
7IP ToSIEEE802.1p
8QoS support: IP ToS, IEEE802.1p
9ONU auto-identify
10Flexible QinQ
11Port Mirror
12Frame filtering, broadcast/ Unknow unicast/ Unknow multicast policing
13Support MAC address restriction
14AES-128 encrpytion tachniques
15Support IGMP Snooping
16Support TCP/IP, ARP, IGMP protocol
17Powerful OAM function
18Support IEEE802.1x
19GUI interface, support band-in / band-out management
F410T

Hardware character

Frame

Dimension

440mm (W) x 207mm (D) x 43mm (H)

Weight

3KG

Power Consumption(MAX)

30W

Temperature

Operating Temperature050

Storage Temperature-3060

Relative humidity1090% (No agulation)

Power Supply

Power Supply AC

100-220V

port character

Console port

1 RS232C DB-9

LAN portout of band management port

2 RJ45 10/100Base-T

Uplink interface

4 GE port SFP connector both optical or electricity are ok

Fiber

Singlemode or Multimode Fiber

Connector

LC Connector

PON port

4 1000M Port

Standard Protocal

IEEE802.3ah

Fiber

Singlemode Fiber

Connector

SC Connector

Max splitter ratio of each PON port

32

Speed ratio

symmetry 1.25 Gbps

estimated Optical Loss

28 dB

Wavelength

transmit: 1490 nm
Receive: 1310 nm

Super character

Exchange function

non-stop line speed switch ability
8KMAC address table
Support 512 Multicast Entry
Support IGMP Snooping
Support 4094 VLAN802.1Q

IEEE802.adUp to 4 Uplink GE port aggregate
support base on input outputs port mirror

QoS

8 CoS alignment/ONU user
IEEE 802.1q&p
IPV4 ToS PRI
traffic shaping
DBA dynamic bandwidth Allocation



Security

ACL

AES-128 encrpytion tachniques

User Authentication management

IEEE 802.1x Authentication

System management

support band-in & band-out mangement
ONU Auto-Identity

Power management

Power Supply AC

100-240V