1x2 2x2 PM circulator 1064nm
Features
High Extinction Ratio
Low Insertion Loss
High Isolation
Excellent Environmental Stability
Applications
Polarization Mode Dispersion Compensator
EDFA & Raman Amplifier
Coherent Telecommunication Systems
| | | |
| --- | --- | --- |
| Parameter | Unit | Values |
| Center Wavelength | nm | 1064 |
| Operating Wavelength Range | nm | ±5 |
| Typ. Insertion Loss at 23℃ | dB | 2.1 |
| Max. Insertion Loss at 23℃ | dB | 2.3 |
| Typ. Insertion Loss at -5 to +50℃ | dB | 2.6 |
| Max. Insertion Loss at -5 to +50℃ | dB | 2.8 |
| Typ. Isolation at 23℃ | dB | 35 |
| Min. Isolation at 23℃ | dB | 30 |
| Typ. Isolation at -5 to +50℃ | dB | 25 |
| Min. Isolation at -5 to +50℃ | dB | 20 |
| Min. Return Loss | dB | 50 |
| Min. Extinction Ratio | dB | 20 |
| Min. Cross Talk | dB | 50 |
| Max. Optical Power | mW | 300 |
| Max. Tensile Load | N | 5 |
| Fiber Type | | PM 980 Panda Fiber |
| Operating Temperature | ℃ | -5 to + 50 |
| Storage Temperature | ℃ | -40 to +85 |
*Above specifications are for device without connector.
*The optical path is 1->2, 2->3, 3->4, 4->1.
*For devices with connectors, IL will be 0.3dB higher, RL will be 5dB lower, and ER will be 2dB lower.
*The PM fiber and the key are aligned to the slow axis and fast axis blocked.
Size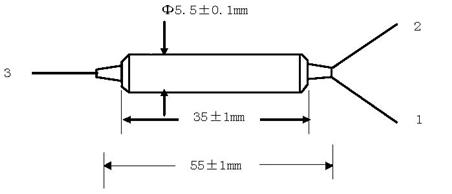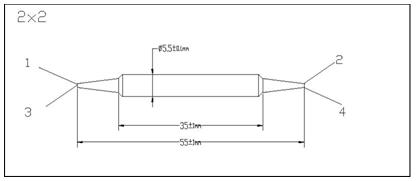 Ordering Information
PMCIR-①①-②-③③③③-④④④④

①①: Wavelength

③③③③: Connector Type on Port 1, 2, 3 & 4

④④④④: Fiber Jacket on Port 1, 2, 3 & 4

06 - 1064nm

1 - FC/UPC

B - 250um Panda Fiber

SS - Specify

2 - FC/APC

D - 400um Panda Fiber

3 - SC/UPC

L - 900um loose tube Panda Fiber

②: Port

4 - SC/APC

S - Specify

1 - 1x2

N - None

2 - 2x2

S - Specify

④: Fiber Length

0.8 - 0.8m

S - Specify